Who doesn't remember their first car? I sure do.
It was a 1964 red VW bug and, although it was a mess, I loved it. It had belonged to a college friend who was going into the Peace Corps and didn't need it. I was on Long Island, at Stony Brook University getting my Masters. She lived about 45 minutes away. Of course, it was a standard shift, which I didn't know how to drive. But, why would I let that stop me? I got my friend Chucho from Mexico, who didn't have a license but knew how to drive a standard, to come with me on the train then drive it back to campus. He showed me the basics on the way home.


The first time I went out on my own, I caught a red light on a small incline. Depress the clutch, hit the brake, downshift to first. Good. I've got this. Green light. Release the brake and give it a little gas. I rolled back into a Lincoln Continental. BRAKE! I'd forgotten to release the clutch. Luckily, I only tapped his bumper and the man was very gracious. After that, I learned fast. A week later, I drove into Manhattan where I really learned to drive a stick.
My maternal grandfather, affectionately known as Pa, was born in 1900−a year before Steven, the Depression-era cop in my series. Pa embraced the advent of the automobile like a long lost brother. He was a "Chevy man." He traded in for a new one every two years. Pa loved his cars and treated them like they were his children. Every Saturday, he lovingly washed and hand-polished his Chevy. On Sunday, he and my grandmother often took a drive.
Since Pa and Steven would have been contemporaries, I gave Steven his love of cars. Steven saved his money and, a month before the Stock Market Crash of 1929, bought his first car−a 1929 dark green, 4-door Chevy sedan. It has a 6 cylinder engine, a spare tire mounted over the back bumper, wire spokes in the wheels, and a leather strap inside for the front, bench seat passenger to hold.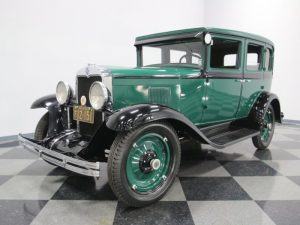 In Threshold of Deceit, Olivia spends several days in 1934 with Steven and gets to ride to Syracuse with him while he's working on an investigation.
Olivia sank onto the roomy bench seat and ran her hand
over the soft tufted upholstery. The luxurious interior was
a pale gray, chenille-like material. Olivia stretched out her
legs and leaned back onto the seat, enjoying the moment.
Yeah, this is pretty cool. (Threshold of Deceit)
I'm having a lot of fun picking out cars for my characters. I search the internet and, because I live in Central New York, I actually get to see them in person. I even have a choice!
The fabulous Northeast Classic Car Museum in Norwich, NY has nearly 200 vintage cars in stunning display. In addition, every summer, Syracuse hosts the Syracuse Nationals, the largest classic car show in the Northeast. In 2018, over 90,000 people came to see more than 8,000 classic cars from 34 states and 6 Canadian provinces. For someone who writes a mystery series set in the 1930s this is fabulous! Enjoy these pictures of some of the cars I had a chance to see recently.