I've always been inspired by strong independent women who knew what they wanted and worked hard to get it−Hatshepsut, Elizabeth I, J. K. Rowling, Cher to name a few. Although I usually read mysteries and political thrillers, last year I read two autobiographies that I couldn't put down.
I had along admired Michelle Obama for her spirit, intellect, grace, and passion. But, when I read her autobiography BECOMING my admiration grew. She put forth her life story with honesty and humility. She was a smart, sassy, outspoken little girl who came across as someone I could identify with. She grew up in a modest family with a lot of love and a thirst for knowledge. She wasn't afraid to take risks or work hard to achieve her goals.
When I got to the part where she described the early years of her marriage to Barack Obama, I was stunned to realize she spent many years functioning very much like a single mother. Why hadn't I thought about that before? While he was campaigning or climbing the political ladder−in Chicago or out of town−she was home alone raising two kids and working. Always generous of spirit, loving, and supportive of his career, I don't remember any point in the book where she complained about her situation. She tackled each day and got the job done.
I believe that BECOMING will find its place as a classic in American literature and will continue to inspire girls and young women for many years to come.
A story equally inspiring but vastly different in experiences is LIFE UNDERCOVER: Coming of Age in the CIA by Amaryllis Fox. I never thought a biography would be a page-turner but Fox's autobiography reads like a LeCarré novel or a James Bond story.
From her often unsupervised childhood, where she used London as her playground, to her time working undercover as a spy, at times unofficially, without protection from our government if caught, in order to infiltrate terrorist networks in some of the most dangerous theaters in the world, Amaryllis Fox has lived life on the edge.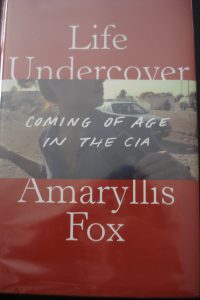 Fox is passionate about understanding how people think and why terrorists do what they do. She is über-smart, clever, resourceful, exceedingly brave, and steadfastly loyal. She tells her story with honesty, humor, and humility. I admire her passion, commitment, and courage more than I can put into words. I am astounded by the missions she undertook on our behalf. She put herself in harm's way, risking her life for the United States. She risked never seeing loved ones again, especially her adored daughter (who was a baby at the time). She put country above personal life and never complained. She deserves our recognition and our thanks.
I highly recommend this amazing autobiography.