I've always been fascinated by ancient Egypt. Exploring Cairo, Luxor, and the Valley of the Kings, drinking in the architecture and art, walking up the ramp at Deir el-Bahri were the stuff my dreams were made of. My father shared this interest. Some years ago, we decided we'd waited long enough, we were going to Egypt. I was so excited!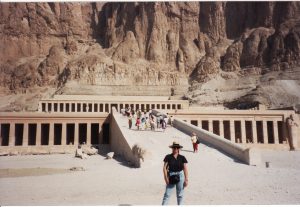 Whenever I travel, one of my pleasures is learning about the place I'm going to visit. I research the history, geography, and culture of the region and read everything I can get my hands on. As it happened, I had read Sphinx by Robin Cook a number of years before. There's a scene in the novel where the protagonist is offered tea by a merchant in the Khan el Khalili Bazaar in Cairo. I thought how cool it would be to look for treasures in a shop in the souk and be invited to tea by the owner!
During the first few days of our adventure, I rode a camel into the Sahara Desert to the Pyramids at Giza. We explored the Sphinx and the funerary barque of Cheops. We marveled at the treasures recovered from King Tutankhamun's tomb. We gazed in awe at the Step Pyramid of Djoser at Sakkara. Day after day we were overwhelmed by the brilliant engineering, art, and architectural wonders of the ancient Egyptians.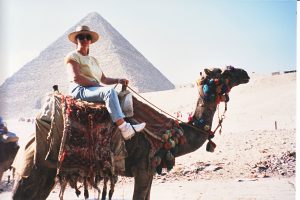 On Wednesday, I had the afternoon to myself. This was my moment to experience something genuinely Egyptian. Thrilled, I headed out armored with my half-dozen expressions in Arabic–Hello. Please. Thank you. No. It's hot out today. Goodbye.
The Khan el Khalili Bazaar is a labyrinth of tiny, twisting streets occupying several city blocks. Constructed in the 1300s, this seemingly endless emporium sits nestled inside the Old City Walls. I wandered past shops selling gleaming copper pots, finely wrought silver and gold jewelry, and hanging brass lamps. I examined soft leather poofs and alabaster statues of ancient Egyptian gods and goddesses. I considered beautifully crafted marquetry trays and boxes.
Everywhere I looked, there were marvels for sale. But nowhere did I see what I had come for. I wanted to purchase 2 galabiyahs (Egyptian kaftans)–one for myself and one for my mother. Oh yes, there were robes galore but the one for my mother had to be of the softest Egyptian cotton in pale blue−her favorite color.
I wound my way through crowded narrow alleyways, up stone steps, under pointed Gothic arches. Vaulted ceilings caught the aroma of spices, tobacco, and coffee and I breathed in deeply. I strolled by tiny cafés where men in galabiyahs stayed cool in the heat while they played backgammon or smoked water pipes filled with homemade mixtures of tobacco, straw, and sugar cane. At last, I came to a tiny shop on the edge of the market. The proprietor, garbed in a striped kaftan, waved at me from the open doorway. Why not?
Marhaba. Hello. Goods for sale were crammed on wooden shelves that rose to the 20-foot high ceiling. Cheap tourist stuff. La. Shukraan. No. Thank you. The man raised his hand and pointed toward a dark recess at the rear of the long narrow shop. He hurried to the opening and flipped a light switch, revealing another packed room. Better quality, but still no galabiyahs. I explained what I was searching for. Ah ha! His index finger popped up again, indicating a third dark room. He squeezed past me and hit another switch. Now, we're talking!
The sanctum sanctorum was smaller and more cramped than the previous 2 rooms but it was chock full of colorful kaftans. I tried on several and picked out a black one trimmed in gold and scarlet for myself. He took robe after robe off the shelves. How about this color? What about that design? I told him it had to be pale blue. After much darting about and rummaging through shelves and boxes, the pile of untried galabiyahs grew wobbly tall.
At last, he cried out and spun around to face me, a delicate blue robe in the softest of cottons in his hand. I smiled and nodded.
The shopkeeper wrapped them up, handed me the package, then left the room. A moment later, he returned grinning and carrying a small tray. On it was a steaming pot of tea, a bowl of sugar, and two tiny glasses set in silver-like holders with handles. I was so involved in picking out the kaftan I had completely forgotten about the tea.
My host set the tray on a small round table. With a flourish, he gestured me to sit on a rickety wooden chair as he invited me to tea. I felt like I had arrived!
I loved the rest of the trip−the train ride to Luxor, exploring tombs in the Valley of the Kings, sailing down the Nile. But having tea in the Khan el Khalili Bazaar made me feel, if only for a moment, that I belonged to this wondrous culture.