Who doesn't love going on a picnic? During this difficult time of coronavirus there are many things that we can't do. But one beloved summertime activity not off-limits is a picnic. The beauty and joy of having a meal al fresco is that there are virtually no limits to where you can go. A local park, along the shores of a lake, in the woods, or in your backyard are all fun places to relax and enjoy lunch or supper. I have many wonderful memories of picnics – some of which marked milestones in my life.
The first picnic that I remember was on the occasion of my First Communion. My parents told me we could celebrate in any way that I wanted. We could have a party for family and friends, go to a restaurant for a nice meal, or something else. I asked for a picnic in Highland Forest with only the 4 of us – Mom, Dad, my sister, and me. My mother was surprised at my choice. What? Take off that beautiful dress, put on pants and t-shirts, and tromp through the woods? Yup. That's what I wanted.
It was a chilly spring day. My sister and I gathered branches and my Dad built a small camp fire. It was a typical 1950s American picnic – hot dogs in soft white buns, pickles, potato chips, and soda. My Mom probably brought cookies but I don't remember that. My family spent a glorious afternoon in the peace and quiet of a forest where the only noise was the sound of birdsong and our laughter.
Throughout my childhood summers, my mother made special efforts to make ordinary everyday things memorable. My sister and I had lots of picnics in the backyard – bologna sandwiches, pickles, and potato chips for lunch (notice a theme here?). And once or twice a week, she packed up a cold supper and our beach things so when my Dad got home from work, we could go right to Green Lakes State Park. We would play in the sand, swim in the crystal-clear lake, and eat our supper at a picnic table under the trees. We stayed until the sun set and it got dark.
Picnics in France are a completely different affair. When I was teaching in Marseille, I became friends with a French woman and her family. They introduced me to un pique-nique français. This involves what some Americans might call gourmet food – fresh baguettes, pâté, an assortment of cheeses, cold salads and meats, olives, fresh fruit, and, of course, wine. The French bring a collapsible table and chairs or spread a colorful cloth on the ground. There is always a table cloth, cloth napkins, and real glasses, plates, and utensils. They don't necessarily go to a designated park or picnic area. More often, they go wherever they think would be a beautiful spot for a meal en plein air.
After I returned to the States and was teaching French in a local high school, I got in the habit of taking my students to Paris in the summer. A picnic in a park became one of the favorite activities every year. I'd pack a separate bag with a red-and-white table cloth, napkins, plates, cups, and silverware.
On the day of our adventure, we would go shopping for our pique-nique. We inhaled the heavenly aromas of the fresh breads and chose carefully in the boulangerie, selected pâtés and a variety of salads in the charcuterie, picked out fresh fruit in the marché, and then swooned at the pastries in the pâtisserie. I have wonderful memories of each déjeuner sur l'herbe.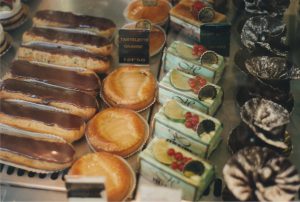 Threshold of Deceit, the 2nd book in The Blackwell and Watson Time-Travel Mysteries, begins with a very different kind of picnic. Here is an excerpt:
Chapter 1
She sat across from him on the red-and-blue plaid blanket, legs stretched out and ankles crossed. It was a glorious day and the sun felt delicious on her skin. The wide-brimmed hat shaded her face, but already her arms were growing pink. She smiled, watching cardinals swoop back and forth in the lush meadow around them. She closed her eyes and listened−the air hummed with birdsong.
Today was their first picnic of the season. He had carried the wicker basket packed with all his favorites—ham sandwiches and garlicky pickles, potato salad, and apple muffins with chopped walnuts. He'd finished eating first and was lounging on his back, elbows bent, hands locked together behind his head. He squinted in the bright light as he gazed sleepily at a flock of Canada geese flying high above in a V-formation.
She sat quietly, watching, waiting for the poison to take effect.
As she popped the last bite of oatmeal raisin cookie into her mouth and was brushing the crumbs off the skirt of her new dress, Frankie Russo began to choke.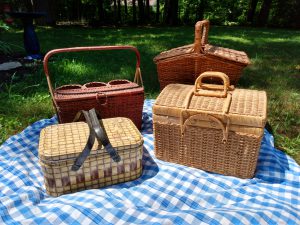 Until next month, Bon Appétit!!