One of the things that I've really enjoyed during the past several years is doing interviews – in person, online, or during the Q & A session after panels at events. For this month's blog, I decided to pick the 10 most common questions that I've been asked and share them with you.
Here they are…
1. Why do you write mysteries? I love the adventure of a mystery−the hunt for the killer and the quest for the truth. I like that a mystery can take place at any time and in any place−a quaint English village in the 1930s or a desert town in 1500BC Egypt. I especially like the satisfaction the reader gets at the end of a mystery. Everything is always wrapped up and explained.
2. What is the most challenging aspect of your writing life? Time management has been my biggest challenge. I would be happy if I could sit at my computer and write all day long. But, in addition to maintaining my normal life with exercise, walking, family, and friends (to say nothing of household chores and errands), I also need to maintain an active online presence, do marketing, and keep up lots of book-related paperwork. I'm also an active member of my Sisters in Crime chapter and attend a couple of conferences every year. I could use about 36 hours every day.
3. If you could be any fictional character, who would you be? Why? Ariadne Oliver in Agatha Christie's mysteries. She's quirky and fun. She has exciting adventures with Hercule Poirot. I love the portrayal of Mrs. Oliver by the British actress Zoe Wanamaker.

4. Are you a pantser or a plotter? In writing-speak a panster is a writer who flies by the seat of their pants, while a plotter outlines the novel beforehand.
I would have to say I'm a little of both. I always start out with a detailed plan. I outline the plot. I create the characters and their relationships. I sketch out who gets killed, how and why, and the killer. I create the arc of the relationship between Steven and Olivia, deciding what's going to happen between them and how the friendship is going to evolve. Once I start writing, the book tends to grow organically. The characters usually take over and do things I hadn't planned on.
If I've created realistic people (as opposed to characters), they will act according to the personalities I've given them. Their hopes, fears, desires, and motivations will lead them to do−or not do−certain things. More than once I've discovered that the person I originally thought was going to be the killer wasn't. I got to a certain point in the rough draft and realized that it made more sense for someone else to have done it.
Robert Frost is quoted as saying, "No tears in the writer, No tears in the reader. No surprise in the writer, No surprise in the reader." For me that says it all.
5. Who are some of your favorite mystery authors? I love British mysteries. My top 3 authors are: Agatha Christie, Martha Grimes, and Deborah Crombie.
I fell in love with Christie's books decades ago. I own and have read all of her books at least 2-3 times. I love the PBS Mystery programs with David Suchet as Hercule Poirot and Joan Hickson as Miss Marple. To me, they embody the characters Christie wrote.
I also love the Richard Jury series by Martha Grimes. The characters are wonderfully quirky. Her child characters are often precocious and have loads of personality. I enjoy getting lost in Grimes's settings time after time. Each of her titles is the name of a real British pub. One of my favorite activities has been to visit several of those pubs on trips to England. It made the stories come alive.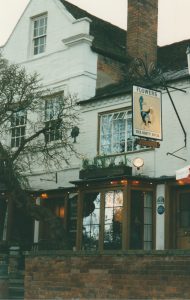 Deborah Crombie is the author of the Duncan Kincaid & Gemma James Mystery Series. I love the way she's created a community of friends, family, and co-workers around her two main characters. This enhances the stories and makes the characters seem like real people. It's something I hope to do with my series.
6. Name a couple of your favorite time-travel books. The Mirror by Marlys Millhiser and Summersea by Eileen Lottman. I read them every couple of years and enjoy them all over again! I highly recommend them.
7. When and why did you begin writing? After I retired from teaching. I had a memory from my teenage years that I wanted to preserve for my family. When I sat down to write it, a huge wave of contentment washed over me. I haven't been the same since! I submitted the piece to Victoria magazine. They published it and asked for more. I absolutely love the feeling of writing. I can't not do it.
8. Do you have a specific writing style? Is there anything about your style or genre that you find particularly challenging? My background is languages. In college and grad school, I read mostly poetry and plays in French and Spanish. Because of this, I focus on the sound of the words and sentences. They must have rhythm, a certain cadence. They must flow.
9. How do you research the historical details? I've used a number of primary sources to get the information I needed−newspapers, magazines, menus, photographs, old movies. I own a reproduction of the 1927 edition of the Sears Catalogue that I use for a lot of household goods and clothing. Once, I made an amazing find in a used bookstore−a February 24, 1934 copy of Radio Guide. That's the week when Doorway to Murder takes place. So, I can be accurate about the programs Steven is listening to on the radio. How cool is that?
I also had the pleasure of interviewing my father about his memories as an 11-year old in 1934. He actually remembered quite a lot of details which I've incorporated into the books.
10. If your book was made into a film, who would you like to play the lead? Aaron Staton did a great job as a 1940s-era man in the PBS show My Mother and Other Strangers. He was very believable both in the way he spoke and the way he moved. Although the hair color is wrong, he would make a good Detective Sergeant Steven Blackwell. As for the female protagonist Olivia Watson, no idea.
BONUS QUESTION: What advice would you give new writers? Never give up.