DEATH RANG THE BELL
Book 3 in The Blackwell and Watson Time-Travel Mysteries
21st-century journalist Olivia Watson thinks traveling back in time to 1934 to attend a Halloween party with her friend Detective Steven Blackwell will be a lot of fun. And it is...until she witnesses the head of the Shipley Five-and-Dime empire murdered, and fears the killer saw her face.
The smart move is to return to the safety of the present, but Olivia possesses a secret and is about to defy the unwritten rules of time-travel. She convinces Steven to let her stay in his time and help unravel the motives behind the murder, even if it means risking her own life to save another.
When Steven delves into the investigation, he discovers how a bitter relationship, a chance encounter, and a fateful decision converged to set the stage for murder. In a maze full of unreliable clues and misdirection, dark secrets refuse to stay buried and forgotten ghosts won't fade away. Steven is reminded that old sins cast long shadows.
Can Steven catch the killer before time runs out for Olivia?
Available at your favorite bookstore and
PRAISE FOR Death Rang the Bell
Carol Pouliot's Blackwell and Watson make a terrific detective duo. Death Rang the Bell, the third installment in this highly inventive series, serves up a real treat–a perfect combination of mystery, time travel, and romance.
Deborah Crombie, New York Times Bestselling author of the Duncan Kincaid/Gemma James novels
DEATH RANG THE BELL brings time-travelers Detective Steven Blackwell and contemporary researcher Olivia Watson their toughest case yet. The taut police procedural illustrates the constraints investigations faced in 1934, when one of the wealthiest men in an upstate New York town is murdered on his own doorstep. The relationship between the pair deepens as the twists keep piling on. Pouliot has the period details mastered, adding realism and depth to this wholly satisfying read.
Marni Graff, author of The Nora Tierney English Mysteries
In a quirk of time, present-day journalist Olivia Watson and nineteen-thirties detective Steven Blackwell share a house, a growing relationship, and now—with Olivia the only witness to a fatal shooting on the night of October 31, 1934—a murder investigation. A Halloween setting, a house where time folds back on itself, and a crime with deep roots in the past make Carol Pouliot's Death Rang the Bell a joy for fans of crisp writing and twisty, character-driven plots.

Connie Berry, Agatha-nominated author of the Kate Hamilton Mysteries
With engaging characters, a murder mystery, and a trip back in time, Carol Pouliot's DEATH RANG THE BELL will keep you turning the pages all night!

Nancy Allen, New York Times Bestselling Author
A delightfully immersive story, filled with surprising twists and turns, a touch of romance — plus a heroine you will happily follow as she jumps between decades, DEATH RANG THE BELL is a truly great escape.

Alison Gaylin, USA Today and international bestselling author
Carol Pouliot's Blackwell and Watson Time-Travel Mysteries provide an intriguing glimpse into life and crime solving in the 1930s. Olivia Watson discovers the veil between current day and 1934 is thin as she steps between the two time periods to help solve mysteries that occurred long before she was born. This intriguing and beautifully written series will draw you in and make you feel right at home in a time period you'll wish you could visit.

Grace Topping, Agatha finalist and USA Today bestselling author of the Laura Bishop Mystery Series.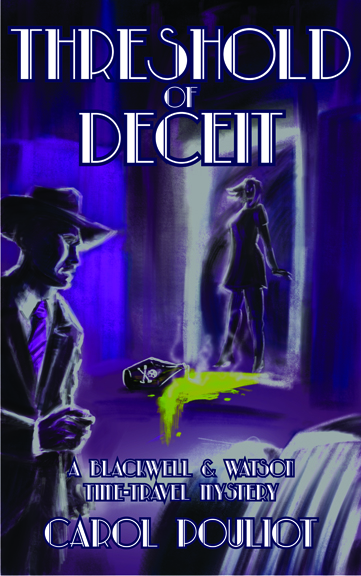 THRESHOLD OF DECEIT
Book 2 in The Blackwell and Watson Time-Travel Mysteries
On a sunny spring day in 1934, local lothario Frankie Russo is murdered in broad daylight. It seems no one saw anything, but things are not always what they seem in this small New York town.
Tackling the investigation, Detective Steven Blackwell discovers Frankie's little black book, a coded list of dozens of flings, affairs, and one-night stands−and a solid motive for the widow. Soon, what appeared to be a straight-forward case gets complicated. A witness goes missing, a second body turns up, the victim's cousin disappears, and an old flame surfaces. Faced with conflicting pieces of evidence, lies, and false alibis, Steven creates a psychological portrait of the killer. He realizes he's looking for someone wearing a mask. But the killer is not the only one in disguise.
Two months ago, Steven came face-to-face with 21st-century journalist Olivia Watson when time folded over in the house they share−80 years apart. They've experimented within the safety of its walls and proven Einstein was right: there is no past, present, or future. All time exists simultaneously. Now, Steven and Olivia test the boundaries of time travel, risking the exposure of their secret. Olivia travels to Steven's time, where she is embraced by the community, unaware of who she really is. She unwittingly falls in with Steven's main suspect, putting her own life in jeopardy.
Can Olivia outsmart a killer before becoming the next victim? Can Steven and Olivia solve the case of the poisoned philanderer in time to protect her true identity and their time-travel secret?
Available at your favorite bookstore and
PRAISE FOR

THRESHOLD OF DECEIT
How can a police procedural be so much fun? Clever and compelling, this intriguing time-traveling puzzle will keep you guessing, keep you turning pages, and have you applauding the talented Carol Pouliot's juggling skills! Nick & Nora meet Timeless in this entertaining mystery.
Hank Phillippi Ryan, nationally best-selling author of THE MURDER LIST
Plenty of authors create a clever premise, but few create a world so crystal clear that we feel as if we're a part of it. With a cast of well-crafted characters and a protagonist that charms on every page, Pouliot accomplishes just that in this compelling time-travel mystery that traverses seamlessly between 1934 and the present day.
Judy Penz Sheluk, author of the Glass Dolphin and Marketville Mystery series
Present-day Olivia Watson and Detective Sergeant Steven Blackwell from 1934 have one thing in common. The house they live in is a time portal, allowing either of them to step forward or back into each other's era. What is at first an experiment in time travel, however, becomes a more serious matter when Olivia inadvertently becomes involved in the case Steven is investigating – the murder of a known philanderer. With delightful twists and turns, Carol Pouliot serves up a delicious tale that is easily devoured. One hopes it is just the start of a long-running series!
Michelle Cox, award-winning author of the Henrietta and Inspector Howard series
A charming mystery with an intriguing premise. A detective from 1934 and an independent modern woman time travel via a door in the house in which they both live – at different times. Can't wait for the next installment.
Eleanor Kuhns, award-winning author of the Will Rees series and The Shaker Murders
A well written and cleverly plotted mystery with a historical twist.
Bruce Robert Coffin, bestselling author of the Detective Byron Mysteries
Carol Pouliot has done it again with her captivating detective duo Steven and Olivia. She's from the 21st century, he's from 1934. Together they solve an intriguing murder in 1930's Central New York.
Rick A. Allen, author of the Star Riders series
Threshold of Deceit takes you on an unforgettable journey merging the present with the past. You are immediately drawn in to the engaging characters and complicated relationships that keep you turning the pages to find out who did it, and what the future might hold for two people from different eras.
Nikki Bonanni, The Killer Coffee Club
DOORWAY TO MURDER
Book 1 in The Blackwell and Watson Time-Travel Mysteries
Secrets lurk in a small New York town and betrayal is just around the corner. The morning after the worst blizzard of 1934, Detective Steven Blackwell takes on a highly charged murder case. The investigation starts badly: one clue, lots of lies and alibis. To make things worse, he's seeing visions of a strange woman in his house.
One night, the mysterious woman speaks. Her name is Olivia and she lives in 2014. She believes time has folded over in the house they share. As their relationship deepens, Steven's investigation intensifies. Soon, he can no longer trust anyone in his own time.
Can Olivia help him crack the case—and catch a killer?
Available at your favorite bookstore and
PRAISE FOR

DOORWAY TO MURDER
There's nothing I like more than a time-travel tale, but how much better to get a crisp, fair-play police procedural, too. The atmosphere grabbed me. The ending surprised me. I'm already looking forward to Steven and Olivia's next adventure.
Catriona McPherson, multi-award-winning author of Scot & Soda
Mystery. Romance. Time-travel adventure. DOORWAY TO MURDER is the total package. Carol Pouliot interweaves the past and present as easily as I turned the pages. I highly recommend this fun read.
Betsy Bitner, award-winning humor columnist, Times Union (Albany, NY)
Steven and Olivia make a great couple of crime busters in this era-jumping romance and hard-boiled police procedural. Join them. You'll be glad you did!
Steve Axelrod, author of the Henry Kennis Nantucket mysteries
Excellent mash-up of genres--a time-travel murder mystery. The details of the 1930's, the cleverly plotted detective work and the interesting characters made this read a fine escape. Looking forward to reading more of Pouliot's series!
Goodreads Reviewer
A good story well told by a natural story teller. I especially enjoyed all the interesting details of the 1930's. Delighted by small accurate details that are sprinkled throughout the book. I want to read another book by this author. And soon.
Amazon Review
I really like this unique time traveling twist . . . I was fascinated with the murder case because of all the twists and turns. I definitely couldn't guess who did it and what would come next. Very impressive.
Secret Pearls Reviews